Vuelio Men's Lifestyle Blogs UK Top 10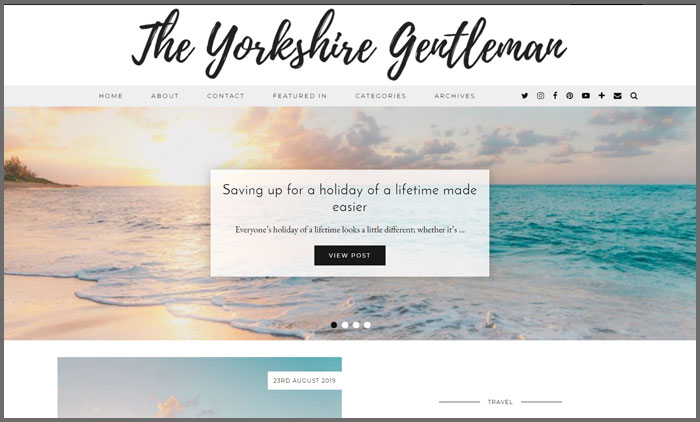 The final new entry for men's lifestyle is The Yorkshire Gentleman. Created by Tom Vickers back in 2016, the blog is a place to share his passion for men's fashion, grooming, tech and travel. Whether it's tips on how to save for your dream holiday or hair product reviews, The Yorkshire Gentleman has you covered. Tom originally started The Yorkshire Gentleman to blog about male grooming but it quickly developed to include his love of motorcycling and food.
---
Nine Men's Lifestyle Blogs You'll Get hookd On
The Yorkshire Gentleman
As the name implies, The Yorkshire Gentleman is renowned for his more traditional approach to fashion, fitness and all things fun. Offering the latest and greatest from new brands on the men's market, as well as providing his readers with some eye-catching imagery, it's safe to say that this dapper chapper from the north truly encompasses everything that an aspiring blogger should look up to.
---
9 Male Bloggers you need to follow
The Male blogging community keeps expanding and giving the opportunity for men to share their thoughts and opinions on the latest fashion, grooming or lifestyle trends. We've pulled together our favourite male bloggers that you should be following..
THE YORKSHIRE GENTLEMAN
The Yorkshire Gentleman was created in June by Tom as a way to share one of his passions, men's grooming. He has seen his blog grow hugely in the last 5 months and has had the opportunity to work with some great companies and brands in the first few months since it was set up. The Yorkshire Gentleman also features fashion, including outfit posts of favourite fashion influencers, food reviews lifestyle posts, travel reviews as well as men's grooming.
Follow The Yorkshire Gentleman: Twitter | Instagram
---
West Yorkshire
About Blog Hi and welcome to my blog. I'm Tom from Leeds in West Yorkshire. I have a passion for male grooming, fashion, lifestyle and travel.
Frequency about 2 posts per month.
Since Aug 2016
Website theyorkshiregentleman.com/se..
Facebook fans 475. Twitter followers 5,384.View Latest Posts ▸
---
THE TOP YORKSHIRE SAYINGS AND WHAT THEY MEAN
As featured in Raven Hall Country House Hotel The Yorkshire accent was described as "warm" and "genuine" in the study and with celebrities such as former cricketer Sir Geoffrey Boycott and ex-Girl's Aloud singer Kimberley Walsh both possessing strong Yorkshire accents, you can see why. We spoke to true Yorkshire men and women for their favourite phrases.
More likely to be heard amongst the older generation though still fairly prevalent across Yorkshire, Tom Vickers from The Yorkshire Gentleman was keen to recommend 'Got any Spice' as a likely phrase to come across. Spice means sweets and when specialist shops were still common, the store specialising in sweet treats would be called The Spice Shop.
Though maybe not a phrase that you will come across on your break in Ravenscar, it is one that will baffle anyone from over the border. 'Gi'us a croggy' is translated as 'let me ride on the back of your bike' and was another phrase suggested by Tom